Donations to Shaw blast fund total £235,000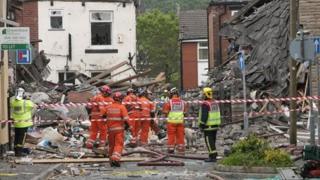 About £235,000 has been raised to help families affected by the Shaw explosion that killed a child and destroyed homes.
Thirty-eight homes are still cordoned off following the suspected gas blast in Buckley Street on 26 June.
Families are being helped to find permanent alternative accommodation as many of those houses will need either extensive repairs or demolition.
Councillors are meeting daily to consider requests for financial help.
Two-year-old Jamie Heaton died in the suspected gas blast and Andrew Partington, 27, remains in hospital having suffered serious burns.
'Fantastic achievement'
The impact destroyed two houses and engineers said at least 11 more would need to be demolished.
The Oldham Distress Fund has received donations of £100,000 from Oldham Council, £125,000 from the Greater Manchester Disaster Relief Fund, £7,000 from the public and about £3,000 from fund-raising events and cheques.
The total is growing by the day and councillors are asking people to keep donating as long-term help will be needed for some families.
Oldham Council leader Jim McMahon said: "This is a remarkable sum and we know there's more to come because there are several fundraising community events still to take place.
"Clearly this a fantastic achievement, but unfortunately we still need more.
'Rebuild this community'
"Dozens of properties have been affected and many residents have incurred considerable losses and expenses."
Mr McMahon said the council would "immediately start the work to rebuild this community".
He added: "We will be working with our partners, insurance companies and building and demolition contractors.
"Where it's possible for residents to return to their homes, we'll try to make that happen as soon as possible.
"Where residents need medium term or permanent relocation, we'll support them in finding that accommodation while the demolition and repair works are conducted."
Police conclude investigations
So far, a committee of councillors has given out about £33,000 towards the cost of temporary accommodation, lost earnings and furniture among other things.
Some 175 homes were evacuated immediately after the suspected gas blast.
A local man who inspected a boiler in the house where the explosion happened was freed on police bail last Thursday, following his arrest on suspicion of manslaughter.
Greater Manchester Police said the man was held in London but his arrest was "only one line of inquiry".
The force has concluded its investigations at the scene and handed over control of the cordon around the most seriously damaged properties to Oldham Council.
Ch Supt Tim Forber said: "While we will no longer have officers on the cordon we will continue to have a presence in the area and will be working closely with the council to keep residents and property safe.
"It is important to stress that a number of houses remain structurally unsafe and dangerous and anyone found trying to gain access to those houses within the cordon will be dealt with by the police."