Firefighters tackle Salford food factory blaze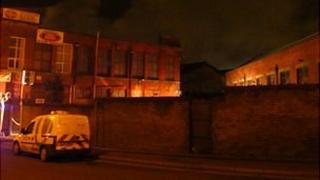 More than 50 firefighters have been tackling a blaze at a frozen food factory on a Salford trading estate.
Fire crews were called to Cobden Street, Pendleton, at 23:29 BST on Tuesday after reports of a fire at Glendale Frozen Foods.
A Greater Manchester Fire Service spokesman said crews prevented the blaze spreading to nearby buildings.
No injuries have been reported, with a number of workers in a nearby building evacuated safely.
It is thought the fire started in a packaging area. Cobden Street remains closed.
Paul Etches, from Greater Manchester Fire Service, said: "As it's a large incident it may well take a day or two to establish what the cause of ignition was."