Salford mayor to be paid £69,000 a year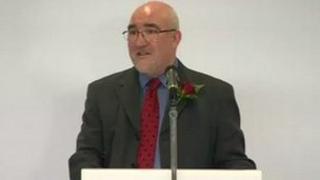 A panel of executives has recommended Salford's first directly-elected mayor is paid an annual salary of £69,000.
The four-strong panel used factors such as the mayor's responsibilities and pay for similar positions to come up with the figure.
Mayor Ian Stewart said he was not "doing the job for the money" and would "graciously accept" the salary.
Unison's Steve North said Mr Stewart needed to "consider whether the recommendation is appropriate".
The recommendation will be considered by Salford City Council at a meeting on 18 July.
The executive panel, appointed by the council's chief executive Barbara Spicer, comprised the University of Salford's Pro Vice Chancellor Keith Barnes, marketing company The Scott Partnership's director Maria McGeoghan and two chief executives, Jayne Bessant from St Ann's Hospice and Greater Manchester Chamber of Commerce's Clive Memmot.
They also recommended the non-elected deputy mayor is given a£44,850 salary.
Neither Mr Stewart, former MP for Eccles, or deputy mayor David Lancaster took part in the recommendation process.
Mr North, branch secretary for Unison in Salford, expressed concern at the figure if Mr Stewart was working "purely as a political representative".
He said: "I'm not saying that £69,000 a year is necessarily too much to pay someone who has senior executive responsibility within a city council the size of Salford but what we don't know is what level of responsibility he is going to take on day-to-day."