Shafilea Ahmed: Brother says sister and mother 'lied'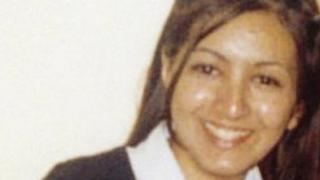 Shafilea Ahmed's brother has accused his mother and sister of lying about the events leading up to her death.
Junyad Ahmed, 22, was giving evidence at Chester Crown Court at the trial of his father Iftikhar, 52, and mother Farzana, 49.
They deny murdering Shafilea at their Warrington home in September 2003.
Mrs Ahmed has claimed she saw Mr Ahmed attack Shafilea while their daughter Alesha has claimed she saw her parents kill the 17-year-old.
Shafilea's body was found on the bank of the River Kent in Cumbria in February 2004.
Alesha Ahmed had previously told the court her parents put a plastic bag in Shafilea's mouth and held their hands over her face.
'Pack of lies'
She claimed her brother Junyad, who was 13 at the time of the alleged killing, had said afterwards that Shafilea had "deserved it".
Junyad Ahmed said his sister's account was "a pack of lies" and denied saying "anything of the sort".
He told the court he had not played any part in his sister's death or been involved in a cover up and rejected the prosecution's allegation that he was taking his father's side and sticking to the "family lie".
Earlier in the trial, the jury was told Farzana Ahmed had changed her account, claiming she saw her husband beat Shafilea on the night of the alleged murder.
She also claimed he had threatened to do the same to her and their other children if she ever asked him what happened to Shafilea.
When asked by the prosecution about his mother's claims, he said: "Well obviously, I think it's a lie what she is saying, but that's her personal account to give."
The prosecution claims Shafilea was killed by her parents because they thought she had brought shame on the family through her desire to lead a Westernised lifestyle.
The trial continues.