Jamie Heaton funeral: Shaw stands still in farewell to blast victim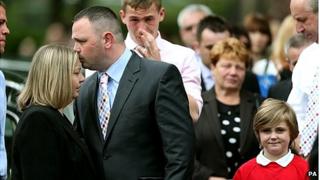 A tiny coffin entered the church to the sounds of the Thomas the Tank Engine song as the congregation prepared to celebrate the life of Jamie Heaton.
The two-year old was the only person killed in a huge explosion in Shaw that demolished his house and several others, only yards away from St James' Church, East Crompton, where his funeral service took place.
Work to demolish and repair houses across the road stopped, nearby shops closed their shutters and the roads next to the church were closed so that people could line the route.
When the funeral cars bearing a floral tribute spelling out "Little Man" arrived, Jamie's mother Michelle was greeted with a hug by Reverend Lynne Connolly.
Hundreds of people, including police, fire and ambulance crews involved in the rescue effort, had turned out to support the Heaton family and many stood silently on the pavement as outdoor speakers relayed the service.
The Thomas and his Friends song played as Jamie's small white coffin, decorated with bright spots in memory of his love for CBeebies character Mr Tumble, was carried by four men into the church.
Ms Connolly paid tribute to "remarkable little man" Jamie and the way he had touched so many lives.
'No one will forget'
There were smiles and some laughter as the reverend described Jamie as a child "so full of life and fun, whose mischievous twinkle could charm the leaves from the trees - and when he had a pen in his hand no wall was safe".
Through her tears, Mrs Heaton read out the well-known poem Footprints, and others remembered the toddler as someone "unique and amazing", who packed a lot into his short years, loved cuddles and playing with his brother and sister outdoors.
When the coffin was brought back outside to be taken to Hollinwood Crematorium people let go of their balloons, which floated into the sky as the cars pulled away.
During the service the family had thanked the community for their support and sang the hymn "When I Needed A Neighbour".
Joan Cooper, whose son's house was affected by the blast, said: "It was a wonderful service and the whole community wanted to be here.
"If you're in trouble the community was always there for you here, but more so now. We've got together more as a family than a community.
"Today we just wanted to give our thoughts and our prayers to those that are hurting the most, and show we are there for them."
Marjorie Coppinger, 65, of Chancery Lane, was one of many who wore colourful, spotty clothes to the funeral in memory of Jamie.
"It's been emotional," she said. "I used to see Jamie walking past the house on his way to pre-school.
"I was in when the blast happened and I heard Michelle, it wasn't a scream it was like a howl, and I can't get it out of my head.
"We have all come to know each other now and we're doing what we can for each other."
Councillor Mark Alcock said the funeral marked an important and sad day for the whole community.
He added: "It's been really hard work but as a community we've all pulled together - nothing's too big or small to ask.
"We have to move on but no-one will forget the 26th of June at 11.15am when the house was demolished and Jamie lost his life."