Shaw widow Nellie Geraghty 'killed by violent drug user'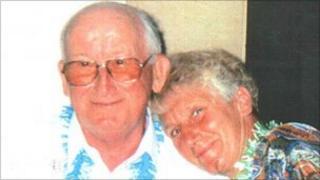 A widow was killed when a handbag containing her husband's ashes was stolen in a violent attack by a drug user to fund his habit, a court heard.
Nellie Geraghty, 79, was found on the ground still clutching the torn strap of the bag in Shaw, Oldham, in November 2011 and died later in hospital.
Mark Royle, 37, denies robbery, murder and manslaughter at Manchester Crown Court.
It was likely head injuries were caused by a kick or stamp, the jury was told.
Prosecutor Peter Wright QC said Mr Royle, who was living rough in Shaw at the time, "resorted to a crime of violence in order to fund his drug habit".
He added: "This was a most violent attack on a vulnerable, elderly lady in which she sustained serious injuries which ultimately led to her death."
Devoted wife
Mrs Geraghty was described as an "extremely active and independent lady" who lived alone on an estate of sheltered housing for the elderly.
She was last seen by a neighbour walking from her address in Elizabeth Grove to the nearby community centre in Victoria Street at 11:50 GMT on 24 November last year.
A minute later the defendant was captured on camera cycling away from the area, said Mr Wright.
Mrs Geraghty's husband, Frank, had died some years ago and the jury heard she was so devoted to him she carried his ashes in her shoulder bag when she went out.
The court also heard she would often carry up to £200 in her bag.
The ashes of Frank Geraghty have not been found.
The hearing is estimated to last up to two weeks.