Anuj Bidve murder: Kiaran Stapleton smirked at police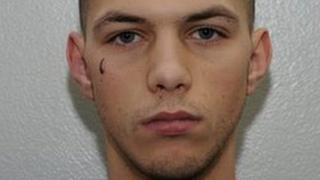 Convicted murderer Kiaran Stapleton told detectives the only thing he had killed was a hamster.
Arrested three days after he shot Indian student Anuj Bidve, 23, on Boxing Day 2011, he smirked as police asked him about a tear-shaped tattoo on his face.
Stapleton, 21, had spent the hours after his motiveless attack staying in the Campanile Hotel, close to the murder scene in Ordsall Lane.
He followed this by getting the tattoo inked on his face at the Candy Skull tattoo parlour in Swinton.
A teardrop tattoo is sometimes used by gang members to signify that they have killed someone.
Below is a transcript of the police interview in which Stapleton is asked why had the tattoo done.
Interviewer: "...the teardrop tattoo is of significance because it symbolises that the wearer is responsible for killing another person. That why you had it done?"
Stapleton: "No comment."
Interviewer: "Badge of honour?"
Stapleton: "No comment."
Interviewer: "Means a few things, according to the internet. That you have killed someone, without going to jail. Have you?"
Stapleton: "No comment."
Interviewer: "In fairness, it can also mean you've lost someone close. Have you lost a close relative recently?"
Stapleton: "No comment. As a matter of fact I did kill someone - my hamster."
Interviewer: "Did you?"
Stapleton: "Last week."
Interviewer: "All very amusing that. We're here investigating the cold-blooded killing of a young man."
Stapleton: "Do you not think I'm bored? I've been here for 36 hours going over the same stuff. I've got nowt else to say."
Interviewer: "I don't care if you are bored. You can sit there smiling. Won't do you any favours."
Stapleton: "I'm not asking for any favours."