Vinny Derrick death: Area near M60 bridge 'not searched'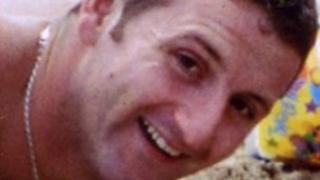 Police "never searched" the area where a man's bones lay undiscovered for eight years, an inquest has heard.
The remains of Vinny Derrick, 29, from Partington, Greater Manchester, were found on a slip road at junction 3 of the M60 near Cheadle on 15 February.
Coroner Joanne Kearsley's narrative verdict said he fell to his death from a motorway viaduct.
Mr Derrick, originally from Leicestershire, was last seen on a night out in Manchester in August 2003.
Ms Kearsley, assistant deputy coroner for South Manchester, recorded a narrative verdict which said that in the early hours of 30 August 2003 Mr Derrick fell from the Morningside viaduct and suffered multiple fatal injuries, but it was not possible to determine how he came to fall.
Greater Manchester Police search co-ordinator Insp Graham Peffers told Stockport Coroner's Court officers had not checked where the area where the remains were found.
Mr Peffers, who was not in post at the time, has carried out a review of the police operation to find Mr Derrick in 2003.
'Draw a line'
Officers looked south of the junction, while Mr Derrick was lying not far away, north of the junction.
Police had heard reports that he was last seen walking south of the junction.
"The search team had to draw a line," said the officer.
He admitted that a the force did not act on a call which had placed Mr Derrick closer to where his body was found.
He went missing after a night at the Jabez Clegg pub in the city centre in 2003.
Police said at the time he had called his boss to tell her he was getting a taxi to her house, where he was due to stay the night, but he never arrived.
After his remains were discovered on rough ground alongside the M60 in February, a police spokesman said Mr Derrick's death was not being treated as suspicious and no further tests on his body would be carried out.
A post-mortem examination did not ascertain a cause of death.
Speaking at the inquest, Home Office pathologist Dr Naomi Carter said Mr Derrick's death was probably accidental and that his injuries were consistent with falling from the nearby motorway bridge.