North West prisoners given military-style lessons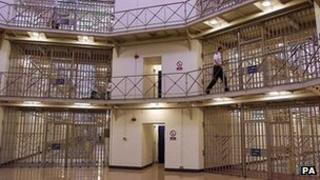 Prisoners in the North West will be given "military-style" lessons in maths and English to boost their chances of finding employment on release.
The new scheme will be piloted at six prisons in the region, Business Secretary Vince Cable has announced.
The compulsory classes, of 35 hours in a one-week block, are based on those used for new recruits in the Royal Navy, Army and Royal Air Force.
Ministers hope the extra education will reduce reoffending rates.
The prisons chosen for the pilot are Manchester, Garth, Kirkham, Lancaster Farms, Styal and Altcourse.
'Breaking the cycle'
Mr Cable said: "Crime blights lives, both for the offender and the victim.
"That is why we are piloting this programme in prisons, so we can give prisoners the basic skills they need to get their lives on track and bring down re-offending rates."
Reoffending costs the public purse between £9.5 billion and £13 billion a year, according to the National Audit Office.
Skills Minister John Hayes said. said: "Breaking the damaging cycle of reoffending and re-imprisonment will not only turn around the lives of countless prisoners, it will also prevent the suffering of their potential victims and reduce the burden on the taxpayer."
"We are determined to make prisons places where people learn skills to build lives beyond crime."