Mary Portas in Stockport 'Portas pilot' row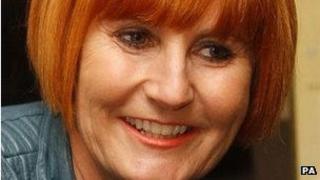 Retail guru Mary Portas says a Greater Manchester town picked to receive government cash to rejuvenate high streets has gone against her views.
Stockport was one of the first 12 "Portas pilot" towns to receive high street help, after the government consulted Ms Portas for advice.
Ms Portas made the comments on Twitter but they were later deleted.
Stockport Councillor Iain Roberts, executive member for economic development, rejected the comments.
Ms Portas was commenting on a blog by Joe Barrett, one of the people involved in the Portas Pilot bid, with a tweet which said: "What Stockport council are doing is against most of the Portas Pilot principles we worked so hard to place."
Blogging in a local newspaper Mr Barrett said: "In my opinion, the council [Stockport] just don't get what the Portas Pilot is all about, all they seem to be bothered about is big business and corporate structures.
"This was illustrated by the fact that the Chamber of Commerce and Merseyway were given automatic representation on the Town Team Board, whereas cultural organisations weren't even included as a sector until after the deadline for nominations had passed."
But Councillor Roberts said: "There are certainly comments that Joe has made on his blog which I disagree with and having spoken to other people in the town team they disagree with them as well."
Ms Portas later tweeted: "It seems I have opened a can of worms on #Stockport this am. @CllrIainRoberts and the writer of this blog, lets sort this out on email."
The town has the highest number of empty shops among large towns in the UK, according to a recent report.