CCTV of man suspected of six sex attacks in Manchester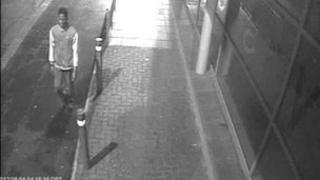 CCTV images of a man suspected of committing six sexual assaults on women in south Manchester in the last month have been released by police.
Officers have increased patrols in the Moss Side and Hulme areas following the attacks, which include two over the weekend.
In all cases the victims described the attacker as black, in his late teens or early 20s, with a slim to medium build.
The latest victim was a 20-year-old woman at 04:00 BST on Fairbank Avenue.
The man, described as wearing a grey hooded top with red stripes along the arm, had followed her as she walked home along Moss Lane East before assaulting her, police said.
Just 24 hours previously two 18-year-old girls were assaulted on Barnhill Street, by a man they said was wearing a dark grey hooded jacket.
The CCTV pictures were taken from the Powerhouse on Raby Street shortly before the pair were attacked.
Dedicated detective team
On 19 July, at about 08:00 BST, a 45-year-old woman was walking along Great Western Street, Moss Side, when a man wearing a blue bubble jacket walked past her, turned and assaulted her.
The next attack took place on 31 July at 22:30 BST on Princess Road, Hulme, when a 17-year-old girl was assaulted by a man wearing a blue shirt and blue tie.
At about 11:00 BST on 1 August a 24-year-old woman was followed along Wilmslow Road and Moss Lane East, then assaulted as she entered a house on Playfair Street.
The man is also described as being about 5ft 6ins (1.7 metres) tall.
Supt Serena Kennedy said: "I want to reassure the public that we are putting a significant amount of resources into this investigation, both in terms of extra officers deployed in the area and the criminal investigation that has a dedicated team of detectives working on it.
"All victims are understandably upset and I know this will cause concern in the community.
"The offender wears fairly distinctive clothing, this morning he wore a grey hooded top with red stripes along the arm and on another occasion he wore a blue shirt and tie.
"Hooded jumpers of similar descriptions have also been worn previously.
"These items of clothing as well as the consistent description from victims makes us believe they are linked and more importantly that someone knows who he is."