David Short: Van sought in Manchester grenade attack inquiry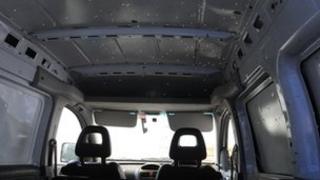 Police investigating the murder of a man in a grenade attack in Manchester have released pictures of a van used by his killers.
The white Vauxhall Combo van was found abandoned after grenades and guns were used in two attacks on homes in Clayton and nearby Droylsden on Friday.
The body of David Short, 46, was found at a house in Folkestone Road East, Clayton, after a blast at 10:30 BST.
The van, which was hired the previous day, had been damaged by a grenade.
It had been set off deliberately by the killers to cover their tracks, police said.
Three men have been arrested on suspicion of murder and police are still looking for Dale Cregan, 29, of Droylsden, and Anthony Wilkinson, 33, of Beswick.
'Significant developments'
Mr Cregan is also wanted in connection with the murder of Mark Short, Mr Short's son, who was shot at the Cotton Tree Pub on 25 May 2012.
There were no reports of injuries in the second grenade attack on Friday, which took place less than 10 minutes after the first, at a house in Luke Road, Droylsden.
Assistant Chief Constable Steve Heywood said: "We have made significant developments in this investigation to identify those who were involved in these attacks and the murder of David Short.
"Today we are appealing to the public to help us trace the movements of a white Vauxhall van, which we believe was involved in both incidents on Friday before it was abandoned."
The van, registration is ML58 VXP, was hired legitimately from Salford Van Hire at 16:40 BST on Thursday and was seen at the Nelson Tavern pub, at the junction of Lord Lane and Hulmes Road, an hour later.
It was recorded by CCTV cameras at 08:35 BST on Friday driving down Chappell Road towards Droylsden and again at 10:21 BST on Lewis Road and North Road, close to the scene of the first attack.
Shortly after that attack it was seen driving along Manor Road and Chappell Road, before it was found abandoned after the second attack took place.
Armed police are still patrolling the areas.
Three people have been charged with the murder of Mark Short and are due to appear at Manchester Crown Court at a later date.