Graham Stringer MP says Manchester police boss soft on riots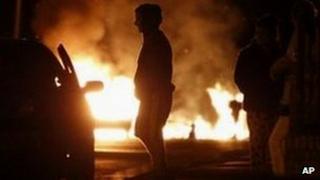 An MP has accused the chief constable of Greater Manchester of not being tough enough in his response to last year's riots.
Graham Stringer, Labour MP for Blackley and Broughton, said Sir Peter Fahy acted more like a "social worker" than a police officer.
The MP was responding to comments made by Sir Peter in the Manchester Evening News on the anniversary of the riots.
Mr Fahy declined to respond to Mr Stringer's views.
'Strange comments'
A Greater Manchester Police (GMP) spokesman said: "It would be inappropriate for Mr Fahy to get into a debate with an elected politician about his personal performance."
Mr Stringer described a number of Mr Fahy's comments given to the newspaper as part of a report on the riots as "very strange", focusing on social issues rather than the crime itself.
"We know there's poverty, we know there's badly educated people, we know there are people who are outside of society and are criminal," he said.
"What I want is the chief constable not to be thinking about those very complicated issues, but when there is crime, to go and sort it out, and that's what didn't happen during the riots."
Mr Stringer added he was surprised at Mr Fahy's other responses to last August's violence and disorder.
"He said we shouldn't concentrate on where the riots were, we should look at the places where things were going well," he said.
"That's like saying don't concentrate on somebody that has been murdered, concentrate on those who haven't."
'State of society'
Thousands of police officers were deployed during the disturbances on 9 August and subsequent nights.
GMP made about 400 arrests during and following the riots, with over 250 prosecutions.
After meeting police units involved in dealing with last year's riots, Mr Stringer also claimed the police were wrongly equipped to deal with offenders.
"Undoubtedly the equipment was old and too heavy for what they were doing so the tactics they used were for defending something under attack by a mob, not for dealing with a mobile mob," he said.
"What I want to hear from Mr Fahy is how they are acquiring better equipment and better tactics to deal with it, not thinking about the state of society as it is."
Greater Manchester Police Authority (GMPA) said in October the rioting had cost the force £8.7m, with overtime alone costing £2.3m.
A total of 188 city centre businesses were damaged during the rioting and looting - more than 100 stores sustained criminal damage, four were subject to arson and 77 were burgled.