Salford Green Lane waste centre plan appeal rejected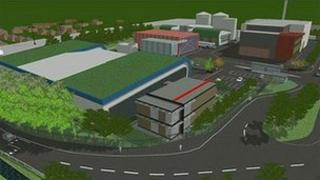 Planning inspectors have rejected an appeal by developers wishing to build a waste recycling centre in Salford.
The plan for the centre on Green Lane, between Monton and Patricroft, was rejected by the city's council in 2011.
It was heavily opposed by local residents, but following the council's decision, developers Sky Properties appealed to the Planning Inspectorate.
However, inspectors rejected the appeal on the basis that the centre did not fit with the area's development plan.
Sky Properties said the planned centre would have recycled 100,000 tonnes of rubbish a year, generating electricity, but residents claimed it was nothing more than an incinerator and posed a health hazard.
'Not appropriate'
Salford's Assistant Mayor for Strategic Planning, Derek Antrobus, said the development had been "incredibly unpopular among the local community and the planning inspector took this strength of feeling into consideration when making his decision".
"There is a need for developments like this, but it is essential we consider residents' views when looking at where they should be located," he said.
"In this particular case, the site was not appropriate and we are pleased that the planning inspector has upheld the planning panel's decision."
He added that the council would now "work with the owners of the site to try to help them to find a suitable development opportunity".
A spokesman for Sky Properties said the company was "obviously disappointed" by the decision.
"The inspector agreed with Sky's evidence as presented at the inquiry that the proposals would have no impact on air quality, noise or on highway safety or congestion of the local highway network," the spokesman said.
"The inspector has based his decisions on the emerging character of the area to be one of residential, tourist and existing industrial use.
"Sky is therefore considering alternative uses for the Green Lane Site which reflect the hopes and aspirations of the local residents."
'Residents jubilant'
Hani El-Qasem, the chairman of Say No To Green Lane Incinerator, said the group was "absolutely delighted".
"The residents feel jubilant that this weight that has been resting on our shoulders for the last three years is now gone," he said.
"After what seems an eternity, this campaign has finally come to a conclusion.
"The decision comes in line with planning strategy for the area and has found that, although true in many decades past, the area has now cast off its heavy industrial roots to become a modern, bustling and thriving residential community.
"We now need to turn a time of conflict to a time of collaboration [and] to work with Sky and the council to bring a development to the site that works for everyone."