Bull mastiff puppies taken in Hulme house raid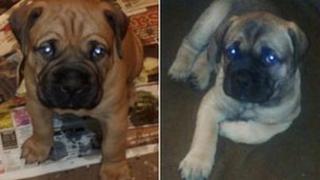 A woman was beaten and terrorised in her home by raiders who fled with two bull mastiff puppies.
The three men punched, kicked and threatened to kill the 36-year-old victim at the house in St Georges Avenue, Hulme, Manchester.
She had been asleep on the sofa when the intruders burst in on Tuesday and then ran off with the puppies, which are valued at about £1,200.
The woman chased after the men but lost sight of them in nearby Barrack Park.
Det Con Ian McNabb said the ordeal was "deeply upsetting" for the owner.
One of the puppies is called Silver after the unusual colour of his coat. He has a little dot of black on his ear and black and brown marks on his belly and groin.
The other puppy, Buster, is a red bull mastiff. He has brown and black freckles on his belly and groin.
They are both eight and a half weeks old.
Mr McNabb said: "Both were beloved pets and the victim is beside herself with worry about them.
"They are both distinctive, particularly Silver. He has an unusual colouring for this breed of dog. A vet apparently told the owner that they had never seen one that colour before.
"These animals were no doubt stolen because they are of good pedigree and they could be sold on."