Winnie Johnson book of condolence opens in Manchester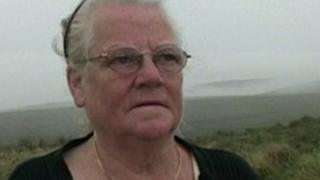 A book of condolence has opened at a church in Manchester for Winnie Johnson, mother of the Moors murder victim Keith Bennett.
Mrs Johnson, 78, died on 18 August after a long campaign to get her son's killer, Ian Brady, to reveal the location of his body.
Her funeral will be held on Thursday ahead of a private burial at St Chrysostom's Church in Manchester.
Canon Ian Gomersall praised her "courage, faith and determination".
He said: "We loved her and will miss her greatly."
Brady and his lover Myra Hindley murdered five children between 1963 and 1965.
They abducted 12-year-old Keith Bennett on his way to visit his grandmother in Manchester on 16 June 1964.
His body is the only one that has never been found.
The book of condolence will be in St Chrysostom's Church from 10:00 BST to 17:00 BST on Tuesday, Wednesday and Thursday.