Dawn Makin detained for daughter Chloe Burke's manslaughter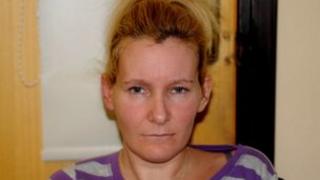 A former nurse who stabbed her four-year-old daughter to death has been detained for 12 years.
Preston Crown Court heard Dawn Makin, 35, suffered mental problems after she was sacked for passing patient data to a personal injury claims firm.
Makin, who was initially charged with murder, admitted the manslaughter of her daughter Chloe Burke on the grounds of diminished responsibility.
The child was found dead at home at Lea Mount Drive, Bury, in February 2011.
Chloe was lying dead on her mother's bed in clean pyjamas and a dressing gown surrounded by cuddly toys, the court was told.
She had suffered knife injuries to her chest, neck and throat.
Preston Crown Court was told Makin was suffering an "abnormality of mental function" when she stabbed Chloe and then drank anti-freeze.
'No rational judgement'
The court heard she drank the anti-freeze as part of an unsuccessful suicide attempt which left her disabled and using a wheelchair.
Peter Wright QC, for the prosecution, said: "She was no longer able to form a rational judgement and believed the only way was to kill herself and her daughter."
The nurse practitioner lost her job at Moorgate Walk-in Centre in Bury after passing patient details to her boyfriend, Martin Campbell, who worked for a personal injury claims firm, the QC said.
She was suspended after a patient complained in May 2010.
Makin was sacked three months later.
The couple split in January 2011, causing her further "considerable distress", the court heard. On Valentine's Day she learned she was to be prosecuted for data protection offences.
'Wrecked life'
Two days later Makin was found with her wrists cut and a bottle of anti-freeze on the floor.
In one of several suicide notes she wrote: "I had no choice, my life was wrecked."
She also wrote on her daughter's picture: "I'm so sorry I've taken her away from you all but I couldn't leave her with no money, that would be too cruel. Sorry."
Nick Johnson QC, defending, said a psychiatric examination of Makin revealed she believed her daughter was an "emotional extension" of herself.
Makin was no longer a cause for concern after receiving psychiatric treatment but "has to live with the fact that she killed her child, something she can't remember".
Judge Anthony Russell QC, the Recorder of Preston, told Makin she must serve six years before being considered eligible for parole.
He said: "Although you were able to understand the nature of your conduct, you were no longer able to form a rational judgment and were of the belief that there was no alternative but to kill yourself and your daughter."
Mr Russell also noted a statement given by Chloe's father Michael Burke which described Makin as a "fantastic" mother who doted on her daughter.