Francis House founder Sister Aloysius dies aged 85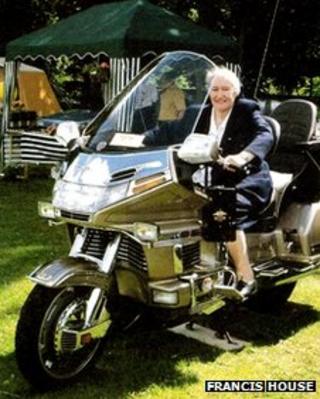 A nun, who founded a children's hospice in Manchester, has died the day before the foundation stone was laid for a £3.6m extension.
Sister Aloysius Fairclough, who died on Wednesday aged 85, in Nazareth House, Prestwich, was one of the prime movers behind Francis House.
Her death came 24 hours before Manchester United manager Sir Alex Ferguson laid the foundation stone.
The present building was opened by Diana Princess of Wales in 1991.
"Anyone who met Sister Aloysius will know what a truly lovely lady she was," said Sir Alex.
He added: "Her amazing dedication to help terminally-ill children and their families through very difficult times will never be forgotten."
'Great determination'
Sister Aloysius, who made her first vows for the religious order the Franciscan Missionaries of St Joseph (FMSJ) in 1945, had worked with children since she was appointed to the Catholic Children's Rescue Society in Didsbury, Manchester, in the 1950s.
In 1990 she became the driving force for the foundation of a children's hospice due to the amount of children the society was working with who had life-threatening illnesses.
At that time there were only three children's hospices in Britain.
Robin Wood CBE, Chairman of Francis House and one of the early founders of the Association of Children's Hospices, said: "She was a lady of great determination who once assured of the pressing need in the Manchester area pursued that goal with such speed it was achieved within 18 months."
Francis House, which helps more than 230 children a year who have either life-threatening or life-limiting illnesses, was opened on 25 November 1991.
It offers respite care for children and adolescents as well as support for their siblings.
The new extension has seven more bedrooms, and new facilities including a recording studio, cinema room and communal lounge.