£3,750 for painting which survived IRA bomb in Manchester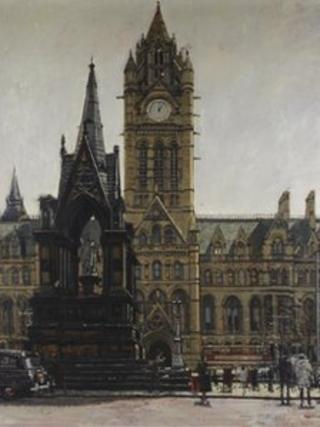 A painting which survived an IRA bomb in Manchester has sold at auction in Chester for £3,750.
The two metre high artwork by Ken Howard, now a member of The Royal Academy, was displayed in The Arndale Centre until the attack in 1996.
The painting was commissioned in 1971 and shows the Albert Memorial and Manchester Town Hall.
It was not damaged in the blast and has been in storage since 1996. It was bought by a private UK buyer.
The Arndale Centre was built in the 1970s in central Manchester and suffered extensive damage in the IRA bomb attack on 15 June 1996. It was redeveloped in the late 1990s.
A spokesman for auctioneers Bonhams said: "This is a beautiful painting in its own right in addition to its fascinating and poignant history and we are not surprised that it has sold so well."