Kelly Davies murder: Two female witnesses sought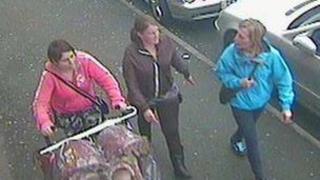 Police are trying to trace two women who were seen talking to a woman who was later killed in Greater Manchester.
Kelly Davies, 31, was found with stab wounds in Queen Street, Farnworth, on 4 June.
Joseph Davies, 35, from the Bolton area, has been charged with her murder and will appear at Manchester Crown Court on 19 October.
Police said the two women were not suspects, but they may be able to assist their investigation.
The two women were seen talking to Ms Davies as they walked down Market Street in Farnworth on 2 June 2012 at 19:45 BST.
Ms Davies can be seen on the CCTV image wearing a bright blue jacket.
Senior investigating officer Andy Tattersall said: "I want to stress that we do not believe these women are involved in Kelly's death in any way, but they may have information that may help us."