Soldier Ian Lowe jailed for murder of ex Leanne McNuff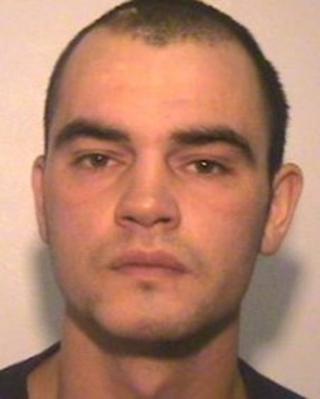 An "evil and dangerous" soldier who stabbed his ex-girlfriend to death in front of their four-year-old son has been jailed for life.
L/Cpl Ian Lowe, 25, attacked Leanne McNuff, 24, in March at her home in Droylsden, Greater Manchester.
Lowe was found guilty of murder at Manchester Crown Court and must serve a minimum of 28 years.
Mr Justice MacDuff said he had committed a "wicked attack" in inflicting ten injuries in 30 seconds.
Lowe, a L/Cpl in the 1st Battalion the Duke of Lancaster Regiment based at Catterick, North Yorkshire, was also upset Miss McNuff planned to move away with their son.
Sentencing him, Mr Justice MacDuff said the jury was not fooled by his explanation and that he had gone around to her house to "get even with her" in blaming her for the mess he had got himself into.
He said: "She was in the sanctuary of her own home and you committed a wicked attack on her in the presence of your four-year-old son.
"You broke into that house, you literally kicked the door down. You ran up the stairs and you stabbed her to death with a knife and then stamped on her face.
"It was a frenzied attack. Within a space of less than half a minute you had inflicted ten different wounds, virtually all of them when she was lying defenceless on the floor.
"The fear and pain she must have felt in her dying minutes is unimaginable. You are evil and dangerous."