Manchester Central Library grant to 'transform' archives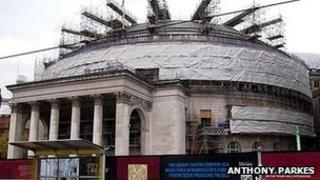 Manchester's Central Library has been given a grant of £1.55m by the Heritage Lottery Fund (HLF) to "transform public access" to its archives.
The money will go towards the library's Archives+ project, which will create "interactive interpretation areas and exhibition showcases for rare books".
The HLF's Sara Hilton said the project would let visitors "explore and learn about the city's fascinating history".
A £48m refurbishment of the library is due to be completed by 2014.
The library's archives are made up of a wide variety of materials, including rare books, parchments, papers, leather-bound volumes, photographs, glass negatives and film.
Ms Hilton said much of it related to the industrial heritage of Manchester and associated family histories, but that it also included "important documents recording the city's social heritage, Manchester's role in the free trade movement and the establishment of the Manchester Ship Canal".
"Every aspect of Manchester's development as the world's first industrial city is captured here in these collections and, thanks to this project, visitors from near and far will be able to explore and learn about the city's fascinating history," she said.
Manchester councillor Rosa Battle said the grant brought the building of "a centre of excellence for our unique archive collection a step closer".
"Archives+ will give visitors the chance to develop a fuller and richer understanding of the phenomenon that is Manchester and the people who have helped to shape its destiny over the centuries," she said.
"It will bring together the largest and most important archives and give new audiences the opportunity to engage with, and be inspired by, the treasures."