Man in dinghy rescued from flooded river in Ramsbottom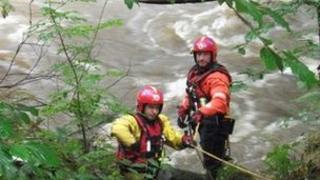 A man has been rescued in Greater Manchester after getting into trouble in a dinghy on a fast-flowing river that was swollen with flood water.
The 55-year-old man was on the River Irwell in Ramsbottom at about 14:00 BST.
A group of kayakers came across him and managed to get to some steep banking using ropes.
They then helped the man stay on the banking, with half of his body still in the water, until firefighters arrived.
The first firefighters on the scene stabilised the man with rescue lines while they waited for the boat team from Heywood Fire Station to arrive.
The boat crew were then able to get the man out of the water safely.
Station manager Kev O'Connor said: "The three kayakers had every piece of equipment going, including ropes, wet suits, helmets and mobile phones, and without them and their equipment the man would almost certainly have died - the water was staggeringly fast.
"When crews arrived, the kayakers were in the water with the man and he was up against the bank, practically unconscious.
"He was suffering from hypothermia and some cuts to his legs and was taken to hospital for treatment."