Mark Short shooting: Newton-le-Willows man charged with murder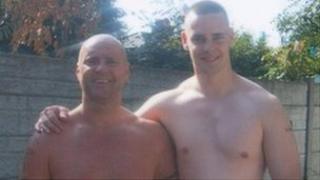 Police investigating the fatal shooting of a man at pub in Greater Manchester have charged a 34-year-old man with murder.
Mark Short, 23, died when a masked gunman opened fire in the Cotton Tree Inn, Droylsden, on 25 May.
Police said Leon Atkinson, 34, from Newton-le-Willows, is also charged with three counts of attempted murder.
Mr Atkinson is due to appear at Manchester Magistrates' Court on Friday.
Also charged with Mark Short's murder are Dale Cregan, 29, from Droylsden, Luke Livesey, 27, from Hattersley, Damien Gorman, 38, from Glossop, Matthew James, 32, from the Clayton area and Ryan Hadfield, 28, of Ashton-under-Lyne.
Mr Cregan is also accused of the murder of Mark Short's father David Short and the murders of PCs Nicola Hughes and Fiona Bone.
Two other men suffered gunshot wounds to their leg and a third suffered a wound to his back during the shooting at the Cotton Tree Inn.
Mr Atkinson was earlier arrested in the Newton-le-Willows area of Merseyside.
A post-mortem examination found Mark Short died from a gunshot wound to the neck.