Brick attack damages Greater Manchester fire engine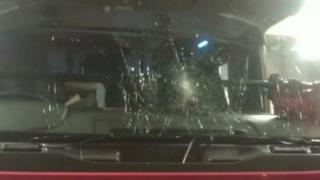 Firefighters were attacked and a fire engine had to be withdrawn from service after bricks were thrown at a crew in Greater Manchester.
The team were called to douse a wheelie bin fire on Deeplish Road, Deeplish, Rochdale, at 17:00 GMT on Sunday.
As they were driving away youths threw bricks, which smashed the windscreen.
Firefighters were left "shaken" and the engine will be out of use for bonfire night.
'Busiest time'
Assistant Chief Fire Officer Peter O'Reilly said: "This is the busiest time of year for our crews and the community expects us to be on call for bonfire and all other incidents - because of these irresponsible actions, this has now had an impact on our resources.
"Thankfully, on this occasion we have been able to call on other resources to provide cover.
"It is really important that the community does everything it can to make sure the respect we know they have for us is maintained by everyone at this time.
"We are getting such great support from the people of Great Manchester - it's just a small minority who don't show us that support and we are working with our communities and the police to ensure this doesn't continue."