Salford gas explosion victim, 75, returns to her home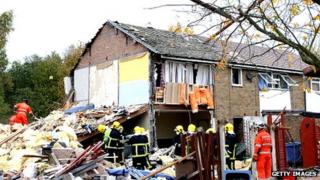 A 75-year-old woman left fighting for her life after a gas blast at her home two years ago has moved back into the rebuilt house.
Marie Burns, of Merlin Road, Irlam, Greater Manchester, was at the centre of an explosion which destroyed three homes in November 2010.
She suffered 30% burns and serious lung damage.
A gas fitter has been charged with failing to ensure a gas fitting was properly supported and protected.
Mrs Burns, who was in a coma for three months, said: "The past two years have been the most traumatic of my life, something I don't think I'll ever get over."
'Lost everything'
She added: "I have vivid memories of making my breakfast on the day of the explosion, of a deafening bang and then someone sitting me down in the middle of the rubble before an ambulance was called, but after that I don't remember a thing.
"When I woke up I had to deal with really painful injuries and the fact I'd lost everything I owned.
"Everything was destroyed - from family photographs to all my clothes and sentimental things I'd collected over the years. I had to rebuild my life from scratch."
Mrs Burns had to learn to walk again and only started speaking on 5 January after doctors removed a tracheotomy which had been inserted to help her breathe.
She said: "It's such a big milestone to finally be given the keys to my home and I can start to put this all behind me and begin to make new memories here."
More than 200 homes were evacuated following the explosion on 2 November.