Ryanair jet's 'rushed landing a serious incident'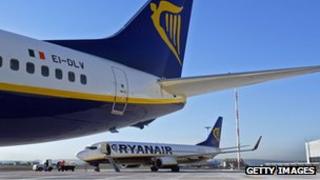 A passenger jet from Manchester made a rushed attempt to land in Germany as the crew were trying to make up lost time, an interim report has found.
The Ryanair Boeing 737 flight to Memmingen on 23 September, was on its final approach when the "serious incident" happened.
The plane, carrying 141 people, was descending too fast before alarms forced the crew to abort the landing.
Ryanair said an investigation was ongoing.
According to the report, published by the German Federal Bureau of Aircraft Accident Investigation, the pilot had more than 5,000 hours of experience flying Boeing 737 planes.
Warning sounded
The report showed that according to the pilot, the take-off in Manchester had been delayed by about 25 to 30 minutes.
During the approach, the crew decided to land on runway 24 because of the "short taxiways" to the area close to the terminal.
The report said: "The aim was to make good on some of the time lost in Manchester".
The subsequent descent to 4,000ft was flown "with a high rate of descent".
While approaching the ground, an automatic warning system sounded, stating: "Terrain, terrain, pull up, pull up".
The crew aborted this landing and, after performing its "go-around", landed normally a short time later.
In a statement, Ryanair said: "[The flight] was on its final approach to the runway in Memmingen when they encountered unexpectedly high tail-winds.
"The crew decided to initiate a go-around procedure in-line with Ryanair operating policy.
"After they had already commenced the go-around the aircraft warning systems sounded and the crew completed their go-around, landing normally."