'Largest' haul of counterfeit CDs seized at Manchester Airport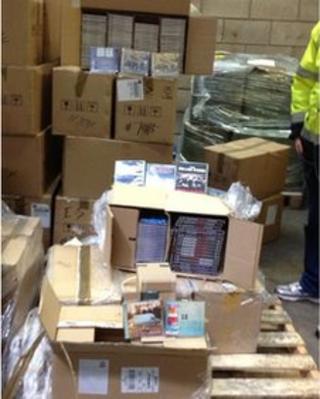 An attempt to smuggle the "largest" haul of counterfeit CDs into the UK has been foiled by police checking freight on a Hong Kong to Manchester flight.
The seizure, which weighed in at 1.2 tonnes, was made last week at Manchester Airport by the City of London Police and the UK Border Force.
It contained illegally copied CDs by artists ranging from the Rolling Stones to Taylor Swift.
The CDs had an estimated value of £245,000.
Police said the joint operation - also supported by anti-piracy investigators from the music industry - stopped "the largest ever consignment of counterfeit CDs from being smuggled into the UK".
The accompanying paperwork described the goods as car MP3s but when officers checked the load they found bogus discs.
Det Supt Tony Crampton, of the City of London Police Economic Crime Directorate, said: "These co-ordinated raids demonstrate how seriously we take the issue of counterfeiting and has in the run up to Christmas, significantly disrupted the criminal distribution of counterfeit CD's throughout the UK."
A further 20,000 CDs were also seized by City of London Police officers at a separate address and a Morecambe man was "subsequently interviewed regarding the haul".
A spokesman said the investigation remains ongoing.