How Silver Line is making Christmas less lonely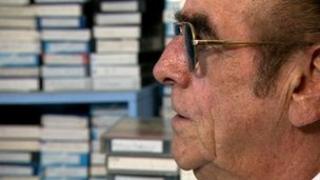 Ken Beeney has spent Christmas alone for the past 15 years but this festive season he feels less isolated.
Mr Beeney, from Sale in Greater Manchester, has learned the difference a simple phone call can make.
"I'm on my own all the time, there's not been half a dozen people in my flat for the last 10 years," said, Mr Beeney, who has never married.
"If that doesn't get to you, nothing will," he added.
Last month the charity Silver Line launched a pilot scheme in Greater Manchester and the Isle of Man to offer support to older people via the telephone.
Mr Beeney, who is in his 60s, said when he first contacted the charity he was not thinking about himself even though he felt lonely.
"I was thinking of how many people out there would need it more than me," he explained.
'Regular chat'
Silver Line is the brainchild of the TV personality Esther Rantzen, founder of Childline, which has helped countless abused children.
It is aimed at older people who feel isolated and alone and offers a 24/7 service of friendship, help and advice, as well as providing links to local charities and social care options.
The calls come in to a centre in Manchester, which matches callers with volunteers called "befrienders".
These befrienders give the callers a regular ring.
Another person helped by Silver Line is Joan Chillson, from Bolton. who hardly leaves her house because of panic attacks.
"You wake up in the morning planning your day but it is the fact of going to the front door, opening it and going out," she explained.
Ms Rantzen said the charity aimed to tackle these feelings of isolation felt by the people who call.
"They know someone cares and someone is up to date with their life, someone knows how they are feeling, someone knows their hopes and their fears,
"People have said to me, all I want is a bit of laughter, someone to talk to who is a friend," she added.
Ms Rantzen said she knew what it was like to go home to an empty house at night.
The verdict of those who have been called is clear.
"It is magic, it is a real feelgood factor," said Mr Beeney.
Ms Chillson added: "You just have a chat and a bit of a giggle and a laugh."