Bolton Council approves cuts worth more than £40m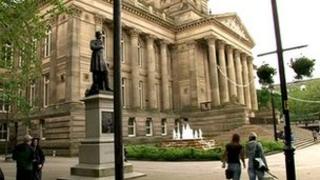 Councillors in Bolton have approved budget cuts of more than £40m, meaning the loss of hundreds of jobs.
The council has estimated it needs to cut 486 posts to meet savings of £34.6m over the next two years.
It has also approved a further £9m of cuts which are to be made after a worse than expected settlement from central government.
These cuts could mean the authority will have to lose between 150 and 220 more posts.
'Most vulnerable'
A council spokeswoman said details of how the £9m would be saved would be discussed at a cabinet meeting on 11 February.
More cuts to the budget are expected to be made over the following two years, in 2015-17.
Out of the 486 posts it is expected to lose, the council said some 240 could be dealt with by not filling empty posts.
More than 100 people have also already offered to take voluntary redundancy.
Cliff Morris, leader of Bolton Council, said: "In September 2012, the council estimated that we had to save £35.6m between 2013 and 2015.
"Following the government's announcement of the Revenue Support Grant in December 2012, we have now confirmed that we must find savings of £43m, a further £9m than we previously planned."
He added: "Our priority will be to protect the most vulnerable, especially vulnerable children and older people.
"However, the level of savings we now have to make will inevitably lead to a reduction in services across the borough."