Man who filmed rape attack on an iPad is jailed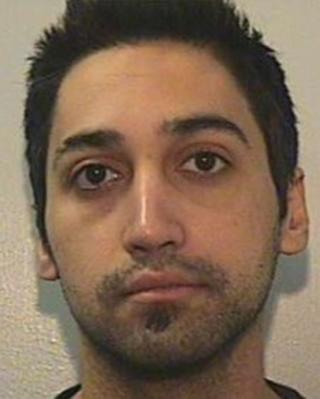 A man who filmed himself raping a woman at knifepoint on his iPad has been jailed at Manchester Crown Court.
Hesam Khosravi, 24, of no fixed abode, was sentenced to six years in prison for the attack at a flat in the Trafford area on 12 April.
Khosravi, who pleaded guilty at an earlier hearing, had an argument with the woman then dragged her into a bedroom and raped her twice.
On his release, the Iranian immigrant faces a deportation application.
He has also been ordered to register on the sex offenders' list.
'Obvious fear'
Judge Adrian Smith said Khosravi was a well-educated man from a "decent, supportive family" who turned "violent and frighteningly menacing" during the attack.
He said filming the rape was an aggravating factor in a "degrading and humiliating" assault.
"She was sobbing and crying throughout and clearly frightened that you might use the knife that you had to injure her. Her fear is obvious."
The victim's two-year-old son was in the flat at the time but did not witness it.
Manchester's Minshull Street Court heard the footage was found by police during a search of Khosravi's car after the victim reported the attack.
The half-hour video was shown in court after Judge Smith warned those in court that the footage was "very distressing".
He told the public gallery it was time to leave if anyone did not want to watch the video.
Khosravi could be heard laughing and commentating on the assault in Farsi as the woman cried throughout.
Khosravi tried to claim the attack was consensual "role-play".
Jonathan Dickinson, prosecuting, said Khosravi rested his iPad on a windowsill, lit the room with a halogen lamp and deliberately recorded the assault.
After raping the woman, Khosravi "strikes her hard on the head, then stands up and kicks her with considerable force on a number of occasions", Mr Dickinson said.