Wigan Council set to cut 200 more jobs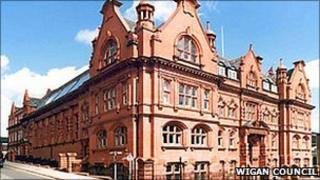 About 200 jobs are set to go at Wigan Council as part of plans to save £18.8m over the next financial year.
Councillors are expected to recommend plans to close six day centres for the elderly at a meeting later this month.
Spending on highways and refuse services will also be reduced, but children's services will be protected.
The council leader Lord Peter Smith said cuts had to be made to services across the board after the council's budget was reduced by the government.
He said: "We are trying to protect vulnerable people but when you have got to take cuts of 18m, and remember we have made £43m worth of cuts in the last two years so that is on top of all that, you have to take them from across the board."
'Loyal staff'
He said of the jobs which would have to be lost from the Labour-run authority, about 45 will be saved as they will be transferred to a new IT supplier.
"We have gone into a new contract with Bolton Council and that is saving us both money and our staff will be transferred to the new provider," he said.
"It is about 160 staff in the current year, we will try and get early retirement and voluntary redundancy, but we have trawled that for the last two years, so it is likely that some people who don't want to leave the council, loyal staff, will unfortunately have to leave."
The council has already cut hundreds of jobs since the 2010 Spending Review.
Wigan residents also face an increase of 2% to their council tax bill, after council bosses chose to refuse a government offer to freeze council tax in return for a higher budget cut.
The plans are due to be discussed at a council meeting on 24 January.