Greater Manchester drug gang jailed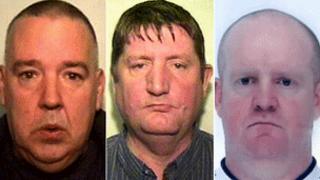 A gang who tried to smuggle 5.5kg (12lb) of pure heroin into the UK in a trailer have been jailed.
David Mather, from Salford, Stephen Tudge, of Bolton and William Pearson, of Sale, were convicted on Tuesday at Sheffield Crown Court.
Mather, 56 of Beech Grove was jailed for 18 years, Tudge, 52, of Tennyson Road got 16 years and Pearson, 52, of Goodwood Avenue received 14 years.
The court heard the drugs were found in a lorry trailer in Hull in May 2010.
Malcolm Bragg, of the UK Border Force, said: "Drug smuggling is a despicable crime. Mather, Tudge and Pearson's criminal enterprise failed and our officers prevented a significant amount of heroin from reaching UK streets.
"This was a long and complex investigation into what was a sophisticated smuggling attempt."
Thirty-two parcels, worth £582,750, were discovered by Border Force officials, hidden in a specially adapted space within the rear crash bar of the vehicle parked in Killingholme, North Lincolnshire.
It had arrived the previous evening from Zeebrugge, in Belgium.