Stockport's Stepping Hill Hospital A&E targets missed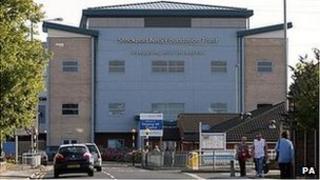 Stepping Hill Hospital has been told to improve A&E performance after a health watchdog found it was missing targets.
Monitor found Stockport NHS Foundation Trust missed goals of treating 95% of emergency patients within four hours.
It failed in the category in four of the last six quarters. Monitor said the hospital was in "significant breach" of the terms of its authorisation.
The trust said it took the independent regulator's concerns "very seriously" and action was already being taken.
Monitor said the trust's failure to make sufficient progress has also lead to concerns there are weaknesses in "the board's governance processes".
'Back on track'
Stephen Hay, from the regulator, said: "Our priority is that patients in the Stockport area receive quality services and we are very concerned that the trust has not managed to deal with its failure to meet the A&E target.
"We have taken action to make sure the trust takes immediate steps to improve its A&E performance and addresses underlying governance problems, so any future issues can be dealt with quickly and effectively."
The trust will need to regularly report to Monitor, with "defined timescales for improvements".
Gillian Easson, Chaiman of Stockport NHS Foundation Trust, said the hospital was intent on achieving the target to get "back on track".
"We recognise that there have been real issues with our performance against the A&E four hour target, although the vast majority of patients continue to receive treatment well within this standard.
"The safe care of our patients is always our top priority and we will continue working hard to provide high quality services that meet all national performance targets."
The hospital department provides treatment for about 7,500 people each month.