Protest in Alexandra Park, Whalley Range halts tree felling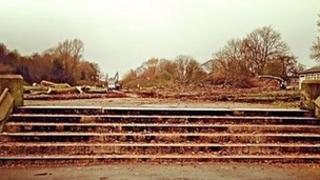 The felling of trees in a park in Greater Manchester was suspended when up to 50 protestors staged a protest.
Trees are being cut in Alexandra Park, Whalley Range, as part of the city council's £5.5m project to return to the way it looked in Victorian times.
Protester Tim Cooke said: "It's destroying the park. They are cutting down hundreds of perfectly healthy trees to make way for flowerbeds."
A council spokesman said work resumed at the park this afternoon.
'Bare and barren'
Two hundred and eighty trees are being removed and replaced by raised flowerbeds in the regeneration of the park. More trees were to be chopped down but this was reduced following the public consultation.
Eamonn O'Rourke, Manchester City Council's head of communities and culture, said: "The massive investment in Alexandra Park will make it one of the jewels of our network, and has widespread public support but is being held up by the actions of a minority.
"This is part of an overall £5.5m investment to make this a park to be proud of with high quality facilities for the local community to enjoy and which will bring more users to the park."
Mr Cooke, who is from Hulme and walks his dog in Alexandra Park, said the protest which started at 11:00 GMT was passive.
"It is the destruction of a lovely park. Parks are the lungs of the city and we need trees, not bare and barren flowerbeds."
More than 2000 people have signed an online petition against the felling of trees in the project, which received £2.2m from the Heritage Lottery Fund.