Jail for Manchester counterfeit goods gang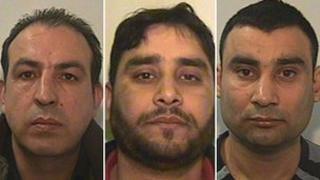 Three members of a gang who conspired to manufacture, import and sell counterfeit goods have been jailed.
Mahmood Shah, 44, of Prestwich, Sarwari Dlague, 33, and Agha Khan, 27, both of Ballater Walk, Cheetham Hill were sentenced at Manchester Crown Court.
All pleaded guilty of conspiracy to defraud. Shah of Hilton Crescent was jailed for two years, Dlague for three years and Khan 12 months.
Police said the counterfeit goods could have been sold for more than £500,000.
Three others who also admitted a charge of conspiracy to defraud at an earlier hearing received suspended sentences and community service.
Abdul Jalil, 34, of Duffield Court, Brennan, Close, Manchester, was sentenced to 12 months prison, suspended for 18 months.
Taiba Parsa, 26, of Drake Street, Rochdale and Ayesha Sarwary, 30, of Alexandra Road, Manchester both received community service.
The gang were responsible for importing counterfeit goods from places such as China to The Late Shop on Greatstone Road, Stretford.
Evidence was seized that revealed counterfeit labels for 45 different brands of designer goods were then added to the items.
Once they had been branded with the fake designer labels, they were then shipped on to another retail premises to be sold on to members of the public.
Two other offenders - Qand Agha Sarwary and Sherin Agha Sarwary who are the brothers of Sarwari Dlague - are still wanted.
Det Con Paul Yates and Det Con Sue Barker, who led the investigation, said: "Counterfeiting on this scale requires serious organisation, established distribution channels and money.
"Judging by the swathes of boxes we seized that were stuffed with fake goods, it is clear this gang had set up a highly profitable criminal venture and were pocketing large sums of cash.
"However, their arrogance and mistaken belief they could act with impunity eventually cost them dear."