Alexandra Park tree felling to stop a second time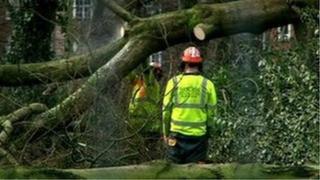 Tree felling at a Manchester park has been halted, on the advice of police, after protesters were evicted from the trees but refused to leave the park.
Work had resumed after being stopped last week when protesters scaled trees at Alexandra Park in Whalley Range.
The city council issued an eviction notice earlier, but protesters then set up another camp within the park outside the area covered by the order.
They say trees should not be destroyed as part of park revamp plans.
Police said a man was chained to a tree when they arrived, but the group later moved to comply with the eviction order.
'Needless destruction'
Protester Nadine Andrews said: "We were just required to move from where we were. We moved to another place not far away where we should be able to stay.
"The protest will continue, we are trying to prevent the needless destruction of trees and wildlife habitat."
The council intends to fell 280 trees as part of a £5.5m project to return the park to the way it is supposed to have looked in Victorian times.
The trees are being removed and replaced by raised flowerbeds as part of the regeneration.
The plans also include creating new tennis courts and football facilities and improvements to the lake.
Councillors say the majority of the community is behind the plans.
More than 3,500 people have signed an online petition opposing the felling of trees in the project, which received £2.2m from the Heritage Lottery Fund.