Gallery Oldham reveals 'significant bequest' of Helen Bradley paintings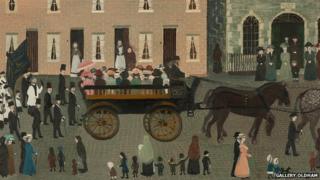 A Greater Manchester gallery has revealed a "significant bequest" of paintings by artist Helen Bradley.
The bequest, which also includes letters and Christmas cards, has been left to Gallery Oldham by collectors Derek and Elizabeth Jewell.
Bradley, who born and brought up in Lees, near Oldham, was awarded an MBE for services to the arts in 1979.
Senior Curator Dinah Winch said the paintings were "full of Helen Bradley's characteristic charm".
Bradley, who was born in 1900 and died in 1979, was known for paintings that were "inspired not only by nostalgia but also by the tradition of Turkish and Mughal Indian miniature painting", a gallery spokesman said.
"Although she always painted, her distinctive narrative style developed later in life when she wanted to show her grandchildren what life was like in her Edwardian childhood," he said.
He said the gift by the late Mr and Mrs Jewell, who commissioned work directly from the artist and "enjoyed an extended correspondence" with her, included five paintings from between 1966 and 1971.
One work, called The Church Outing, has been put "straight on permanent display" at the gallery, while another - A Summer Afternoon, Blackpool - is already showing as part of an exhibition of landscapes.
The spokesman added that the remaining three pieces - two large scale works called One Summer's Day We Went on a Trip to New Brighton and We Have Arrived at Central Station and a "small, rather unusual painting" entitled Miss, said the Policeman, 'And where be you going at this time of night' - would be shown at a later date.
The letters and Christmas cards, which he said give "an intriguing insight into the relationship between an artist and collectors [and] reveal Bradley's thoughts about her growing success and fame", will be stored at Oldham Local Studies and Archives.