£20,000 reward offered in 2003 hit-and-run case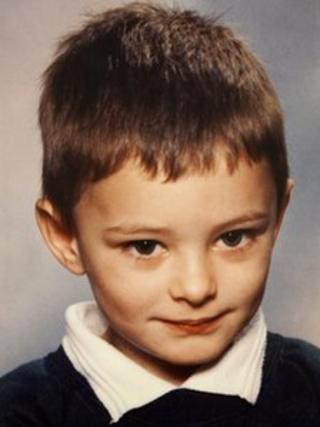 A £20,000 reward for information has been offered by police, ten years on from a hit-and-run which killed a five-year-old boy in Manchester.
Police said Sam Walker was crossing Hardy Lane, Chorlton, with his mother, sister and cousin on 9 February 2003 when he was hit by a silver car.
The Mitsubishi Gallant, travelling from the direction of Barlow Moor Road, then continued left into Burrows Avenue.
The abandoned car was later found on a footpath running off Riverside Avenue.
Witnesses described the driver as a black man aged between 18 and 21.
Sam's mother, Jackie Thomson, said the previous ten years had been a "living nightmare".
She said: "Samuel was a beautiful boy who had dancing eyes and a magical smile. He was a bright happy boy who was loved by all who knew him.
"My life has never been the same since I lost my precious boy, I miss him so much."
"I want this resolved so my family and I can put the agony behind us and maybe then we can grieve together for our Samuel."
Police said a witness saw the car travel along Burrows Avenue, where a female pedestrian waved at the vehicle.
She was described as aged between 16 and 18, about 5ft 2in to 5ft 4in tall, of mixed race and with dark curly hair.
On the afternoon Sam was knocked down, the Mitsubishi was reported stolen.
The owner said the car was taken at about 12:15 GMT, less than an hour before the collision, on Yew Tree Road, Fallowfield.
Sgt Lee Westhead, from Greater Manchester Police, appealed for both the female pedestrian and the driver to come forward.
He said: "The community of Chorlton has not forgotten the little boy who was left to die on Hardy Lane ten years ago.
"Someone within the community knows the identity of the driver and so we are urging them to speak to us.
"You can put an end to the decade of suffering Sam's family have endured and help them obtain the answers to their questions."
The reward is being offered to anyone who comes forward with information leading to the identification and eventual conviction of the driver responsible.