Dale Cregan trial: Father held 'son shot in the pub'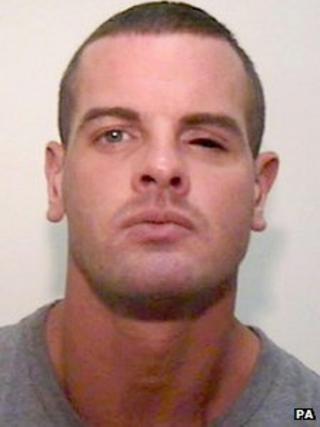 The father of a man allegedly killed by Dale Cregan told police he held his dying son in his arms, a jury heard.
A written statement by David Short, who was later killed, was read to Preston Crown Court telling how he held his son Mark in The Cotton Tree pub, Droylsden.
His partner Michelle Kelly told the court how she saw her son shot dead.
Dale Cregan, 29, denies murdering Mark Short, 23, David Short, 46, and two police officers, PCs Fiona Bone, 32, and Nicola Hughes, 23.
There are nine co-accused whose charges include murder and attempted murder.
'Just bang, bang'
Mr Cregan was on the run suspected of the murders of David and Mark Short at the time PC Hughes and PC Bone were killed.
Sobbing in the witness box at Preston Crown Court, Ms Kelly told the jury of the moment a gunman shot Mark Short in The Cotton Tree, Droylsden.
Ms Kelly, who was the first witness to give evidence in the trial, told the jury of the moments just before her son's death on 25 May.
"I saw my son, he had his back to me... I saw a man enter from the side door of the pub... It was just bang, bang," she said.
"Mark tried to grab him [the gunman]", she added.
David Short's written statement to police said he was in the toilet before his son was shot.
'Lots of blood'
"When I came out of the toilet I heard 'bang, bang, bang', it sounded like a gun so I went back inside the toilet," wrote Mr Short, who was killed on 10 August in a gun and grenade attack.
"The next thing I remember is someone telling me Mark had been shot... I held out my hand under him... I could see he was dying, he was lifeless," the statement said.
Mr Short said a nurse in the pub told him to turn Mark and as he did he saw lots of blood.
He added: "I did not see the gunman, Michelle told me he came in."
Mr Cregan, Leon Atkinson, 35, from Ashton-under-Lyne, Luke Livesey, 27, from Hattersley, Damian Gorman, 38, from Glossop, Ryan Hadfield, 28, from Droylsden, and Matthew James, 33, from Clayton, are all accused of the murder of Mark Short and the attempted murders of three others in the pub at the time. All six defendants deny the charges.
Accused of the murder of David Short are Mr Cregan, Francis Dixon, 37, from Stalybridge, Anthony Wilkinson, 38, from Manchester, and Jermaine Ward, 24.
All four are also jointly accused of the attempted murder of Sharon Hark on the same day, and a single charge of causing an explosion.
They all deny the charges.
Mr Wilkinson is also charged with possession of a firearm with intent to endanger life and Mohammed Ali, 32, from Chadderton, is accused of assisting an offender. They deny the charges.
The trial continues.