Project to restore Quarry Bank Mill in Cheshire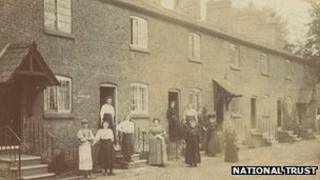 An appeal to raise £1.4m to fully restore a cotton mill estate at the heart of the industrial revolution has been launched.
Quarry Bank Mill in Cheshire was at the centre of the North West's cotton production between the 1780s and 1920s.
The National Trust, which runs it as a museum, described the mill as the best example of an industrial revolution community in the country.
Many of the original features have not been seen by the public before.
Built by the Greg family, the estate offered housing for adult workers and a village complete with chapels, a village school, a shop, allotments and a farm to provide food for the mill community.
'Complete the jigsaw'
Money from the appeal will fund the complete restoration of the mill estate and put archives and records of the family, workers and the children which are not yet available to the public into digital form.
Jane Speller, archive and collections officer, said: "We don't yet know fully what objects and archive material we have in the collection.
"Some work has been done - but being able to digitise material will really help in discovering the full extent of what we have here, as well as allowing wider public access to this amazing collection."
Eleanor Underhill, Quarry Bank's general manager, said the mill, which already attracts 130,000 visitors a year, "captures a precious time in this country's history".
Ms Underhill said: "Quarry Bank is a unique and very magical place but we have so much more to do to complete the jigsaw and enable everyone to experience the history of the whole estate."
The National Trust's project, which will cost a total of £6m and take five years to complete, will see the restoration of a worker's cottage and shop in the estate village and repairs to the Victorian glasshouses that produced exotic fruit for the Greg family. They are all in need of urgent restoration.
The Greg family's house will also be opened to showcase archive material, letters and documents dating as far back as the 1790s from the family, estate workers and apprentice children.