Bolton council tax: Proposed increase of 3.5%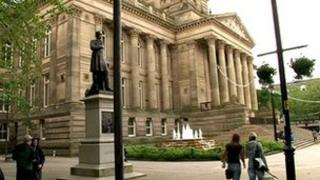 Councillors in Bolton have proposed bringing in a council tax rise of 3.5% and making further job losses.
The recommendations, aimed at saving about £9m over the next two years, will go before full council for final approval on 20 February.
In January, the council approved plans to save £34.6m between 2013 and 2015, with the loss of an estimated 486 jobs.
Bolton Council said it must now make additional savings due to a "continuing reduction" of government grants.
The further cuts are needed because of changes in the council tax benefit scheme and increases in the cost of waste disposal and transport, it is claimed.
The cabinet meeting, held on Monday, also recommended the use of available council reserves on the basis of £2m a year over four years.
A further range of cuts totalling about £5m were put forward, affecting departments including customer services, finance, ICT, economic strategy, children's' services and planning.
'Town suffering'
Cliff Morris, the leader of Bolton Council, said: "The cabinet faced a series of difficult and complex decisions, all of which will have an impact on the citizens of this borough.
"It has therefore been necessary to strike a balance between the reductions in services to clients and the impact on households of increased council tax bills.
"We are asking the public to contribute through a modest increase in council tax in order to avoid making even more reductions in the services we provide to everyone and in particular to those who are most vulnerable."
The public sector union Unison said it will lobby next week's full council meeting.
Bernadette Gallagher, branch secretary of Unison, said: "As trade unionists we cannot simply sit back and say that cuts are inevitable.
"We appreciate that our town councillors face an unprecedented level of cuts to local expenditure and that there is limited room to manoeuvre."
"The town is already suffering from the £60m in cuts that have already been made. We need to know where is the council's line in the sand?"