Governor named in Chetham's Music School sex abuse case quits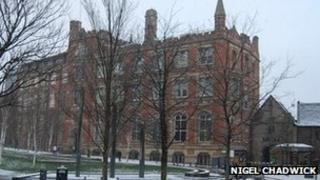 A former member of staff at the music school at the centre of a sex abuse trial has resigned from the board of governors at a leading music college.
Michael Brewer was convicted on Friday of sex abuse of a former pupil while a director at Chetham's School of Music.
During the trial abuse claims were made about Malcolm Layfield, who worked at Chetham's but is now head of strings at Royal Northern College of Music.
Police are now investigating new claims about two ex-Chetham's staff members.
The BBC understands allegations which have emerged since the Brewer case relating to former staff member Mr Layfield are being investigated by Greater Manchester Police.
Victim dead
Brewer, of Selly Oak, Birmingham, was found guilty at Manchester Crown Court of sexually assaulting Frances Andrade in his office at Chetham's School of Music between 1978 and 1982.
His former wife Hilary Brewer, also known by her middle name Kay, and of Knowl Gap Avenue, Haslingden, was also convicted of indecently assaulting the same victim when she was an adult at their then family home.
Mrs Andrade is believed to have killed herself after appearing at the trial, leading to claims she was not offered sufficient support or counselling by Surrey Police.
On Tuesday the Attorney-General Dominic Grieve said he believed the Crown Prosecution Service had taken "all steps I would have expected" to support Mrs Andrade.
Speaking in the Commons, Mr Grieve also said the CPS guidelines on the care of vulnerable witnesses were "crystal clear" and no victim should be denied counselling before a trial.
It is understood Surrey Police had told Mrs Andrade not to have any therapy before giving evidence. Mr Grieve said an investigation into the force's conduct was under way.
Manchester Crown Court was told the allegations about Mr Layfield were made by Mrs Andrade, 48, on behalf of other pupils over the age of 16, when she reported her abuse at the hands of Brewer to police, believed to be between 2001 and 2002.
'Aware of alleged relationships'
Mr Layfield was appointed head of strings at the Royal Northern College of Music (RNCM) in 2002.
Professor Linda Merrick, principal of the Royal Northern College of Music said in a statement: "Around the time of his appointment, the college became aware of alleged relationships in the late 1980s and early 1990s with individuals who were over the age of consent.
"The RNCM considered the situation and took what it considered at the time to be the appropriate steps.
"My main priority is to ensure the safety and wellbeing at all times of our students.
"This will always be my focus and in support of this, the RNCM has policies and procedures in place to protect the welfare of its students.
"The RNCM expects full compliance with all such policies and procedures from both its staff and students and I have today reiterated to my staff and students the importance of these policies and procedures being strictly adhered to.
"Following a discussion with the chairman of the board of governors of the RNCM over the weekend, Mr Layfield has stood down from his position on the board of governors."
'Will assist'
She said Mr Layfield was currently absent from work due to ill-health and the RNCM was therefore not able to comment further on the matter.
Chetham's School of Music said Mr Layfield was a peripatetic teacher rather than an employee of the school.
A spokeswoman said: "The police are now investigating some historic allegations of abuse at the school which have been the subject of recent newspaper reports.
"We will be assisting the police in whatever way we can.
"While this investigation is ongoing it would not be appropriate for the school to comment any further save to say that we encourage anyone who has any relevant information to contact Greater Manchester Police or Crimestoppers."