Third senior officer leaves over failed Lyme Green plan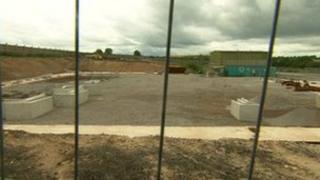 A third senior member of staff has left Cheshire East Council over an aborted plan to build a recycling plant near Macclesfield.
Work on the centre at Lyme Green, Cheshire, started three weeks before the submission of plans, which were later shelved.
The project was later abandoned, costing taxpayers more than £800,000.
Lisa Quinn, director of finance and business service, left "by mutual agreement" on Friday, the council said.
This follows the departure of two senior managers during December.
The council said the action followed a confidential independent report on the recycling centre that contained findings on a number of serious allegations.
Work had started on the recycling centre site on 24 October but a planning application was not submitted until 16 November.
Plans were shelved by the council on 30 November after concerns from planning officers and residents.
A sub-committee has since been established to act in an investigating and disciplinary capacity.