Wayne Rooney-designed motorbike raises £43,250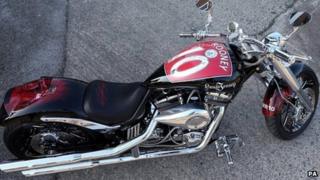 A diamond-encrusted motorbike designed by Manchester United's Wayne Rooney has been sold for £43,250.
The 2012 Lauge Jensen cruiser-style motorbike has a special shift rod with 21 black diamonds and a white diamond.
An autographed No 10 football shirt has also been lacquer-sealed on to the petrol tank.
The motorbike was sold at Bonham's auction house in Chester to raise money for KidsAid, a Danish children's charity which helps sick youngsters.
Rooney said he had been "really excited" to be involved in the one-off design.
It features a painting on the rear mudguard of his celebrations after he scored the goal that helped Manchester United clinch the 2011 Premier League title.
Bonham's said the bike sold to an anonymous bidder.
Other popular items at the auction included a Brazil shirt worn by Pele which fetched £3,500.
A collection of 22 Premier League inaugural season hand-signed and match-worn shirts was sold for £18,750.