Ecstasy 'contributing factor' in death of Salford personal trainer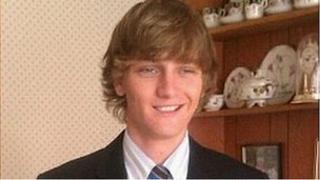 Ecstasy may have been a "contributing factor" in the death of a personal trainer in Salford, police have said.
Officers had been investigating Travis Barber's death after his body was found at his Light Oaks Road home on Sunday.
Ch Supt Kevin Mulligan said the 19-year-old had taken "an ecstasy tablet in the shape of a heart" on Friday.
Further toxicology tests are being carried out after a post-mortem examination failed to establish the exact cause of Mr Barber's death.
The post-mortem examination found injuries that Mr Barber had sustained prior to his death were "consistent with accidental trauma".
Mr Mulligan said Mr Barber's death had been "a tragic incident in which a young man has lost his life and we are continuing to support his family who are understandably devastated".
He said: "Our enquiries have revealed that Travis was last seen alive on Friday, when he took an ecstasy tablet in the shape of a pink heart.
"At this stage we believe there is a possibility this could have been a factor leading to his death."
He added that inquiries were "ongoing to trace the source of these tablets".