Girl, 12, 'saved siblings from fire' at Manchester home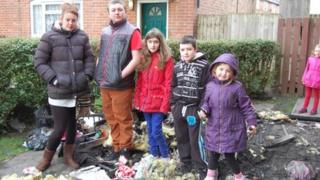 A 12-year-old girl has been praised for evacuating her four younger siblings from a fire that destroyed her family's Manchester home.
Courtney Ratcliffe's calm response to the blaze on Finchley Avenue, Newton Heath, on Wednesday, ensured they escaped unharmed, fire chiefs said.
The blaze started when a bedroom TV caught fire.
Mother Sarah Ratcliffe said: "I'm devastated and I've lost everything but I'm so proud of what Courtney did."
The children - Courtney, Lureice, 11, Lexus, nine, Shannon, six, and Summer Poppy, one - were being looked after by their grandparents, in their 60s, who were treated by paramedics after trying to tackle the blaze.
'Just instinctive'
Courtney said: "The fire alarm was going off, my brother went to see why and he came running down the stairs and said there was a fire.
"I took my little sisters out the back and brought them around the front to a neighbour's house. It was just instinctive."
Councillor David Acton, chairman of Greater Manchester Fire and Rescue Authority, said: "What Courtney did is absolutely amazing.
"It is terrible that the family have lost so much in this fire but, thanks to their sister's calm response, they all got out safely and still have each other.
"It's frightening to think what could've happened if there hadn't been a working smoke alarm and if Courtney had not reacted in the way she did."
The family has been moved to temporary accommodation and said neighbours have rallied round to replace essential items like baby clothes and a pram.