Man rescues neighbours from fire in Oldham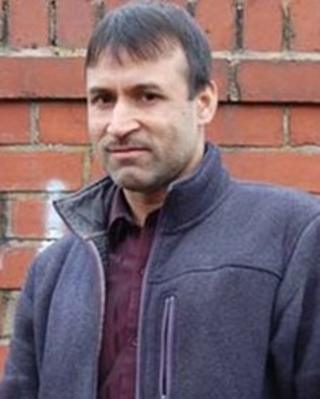 A man has been praised for rescuing a family of seven from a fire at their house in Greater Manchester.
Shabir Hussain helped his neighbours to safety in the early hours of Friday, when the blaze broke out in the kitchen of the house in Brewerton Road, Oldham.
All seven members of the family, aged between three and 94, were taken to hospital for check-ups.
Greater Manchester Fire and Rescue Service said Mr Hussain's actions had prevented a "devastating outcome".
Mr Hussain was in bed when his smoke alarm went off.
He said: "I came downstairs to check the kitchen then went back upstairs to check the boiler but they were both okay. Then I noticed that the smoke was coming out from the skirting boards.
Bare feet
"I went outside and saw smoke coming from the bedroom and bathroom windows next door."
Still wearing his pyjamas and in bare feet, Mr Hussain woke the family by shouting through the letter box before going round the back of the house to look for a way to evacuate them.
"I ran back round the front and everyone was coming down the stairs," he said.
The fire is thought to have started when a gas hob was accidentally left switched on.
It caused severe damage to the cooker and kitchen units above, and the rest of the ground floor was smoke-damaged.
He was described by his neighbour Mushtaq Ahmed, 58, as "an angel, he saved our lives".
He added: "He didn't even have his shoes on and he did everything he could to save us."
Chairman of Greater Manchester Fire and Rescue Authority, Councillor David Acton, said "there's no doubt that by alerting the family to the fire when he did, he prevented a truly devastating outcome".