Police officers hurt in Harpurhey hit-and-run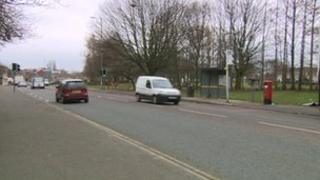 Two police officers were "deliberately driven at" after pulling over a car for speeding in Manchester.
One suffered a fractured skull and the other a fractured wrist when the car was driven at them on Rochdale Road, Harpurhey, at 22:50 GMT on Sunday.
Police said the officers had stopped a car suspected of speeding and, as they went to speak to the occupants, it reversed into them and sped off.
Two men were arrested in Lancashire on suspicion of attempted murder.
The officer with a fractured skull suffered a bleed to the brain, but remains in a stable condition. His injury is not believed to be life-threatening.
The second officer will need surgery for the wrist injury.
Forensic analysis
Police said two men were arrested in the Haslingden area of Lancashire and are now being interviewed.
A car has been taken away for forensic analysis.
Assistant Chief Constable Garry Shewan said the officers pulled over a car they believed to have been speeding.
He said: "Sadly, what this incident painfully highlights is the dangers officer face every day when protecting the public.
"What should have been a routine vehicle stop resulted in two officers being deliberately driven at and suffering serious injuries.
"I know the friends and colleagues of both officers will be anxious to know how the two men are doing, as it is always very unsettling when friends and colleagues are injured in the line of duty, so we will be offering support to anyone who needs it."