Man accused of attempted murder over hit and run crash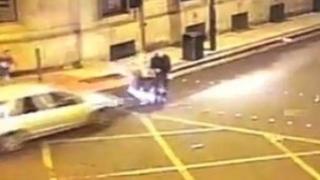 A 21-year-old man has been charged with attempted murder over a hit-and-run which left a father of three paralysed.
Aqab Razaq Hussain, of no fixed address, was remanded on bail by Manchester magistrates on Monday to appear at Manchester Crown on 2 April.
Three pedestrians were hit by a car at about 02:30 BST on 21 August last year, in John Dalton Street, Manchester.
Michael Ward, 29, has been in hospital after suffering "catastrophic" head injuries which have left him paralysed.
Police say he will never recover from his injuries.
His wife Maryrose said: "I go and see Michael everyday at the hospital and it is deeply upsetting to remember him how he was before the incident and to see how he is now."